Are you looking to work with GAEB data and need a head start? Take a look at GAEB & AVA .Net Library!
Who is GAEB?
In both the Architecture, Engineering & Construction industry (AEC) as well as in commerce, you hear about the German GAEB. The Joint Committee for Electronics in the Construction Industry (German: Gemeinsamer Ausschuss Elektronik im Bauwesen) is an organization that engages in standardizing and describing electronic methods in the AEC industry and related branches. In effect, GAEB supports the industry in finding and creating vendor independent structures and processes to facilitate the exchange of data between multiple applications.
What is GAEB?
When GAEB is mentioned, more often than not GAEB-DA, Data Exchange (German: Datenaustausch) is meant, a container format. A GAEB file is to a service specification (also known as bill of quantities) what a Microsoft Word file is to a letter - it's the data format to save and exchange information.
Bills of quantities describe services or projects by splitting them up in partial elements, often with a specific structure of the work. For example, this could be the detailed description of the construction of a building, the contract for a five-year facility cleaning service or even just the order of office supplies. All of these examples have in common that a high-level work is split into multiple, small parts, each of which is easy to describe, estimate and calculate. There can also be supplemental information, such as notes, pictures, plans or special requirements be present in the service specification. These projects exist in all sizes. The construction of a duplex garage for a residential building could be described in just a few parts, while the development of a new school could span hundreds and even thousands of single items. Take this very simple example to get a picture of how this could look like: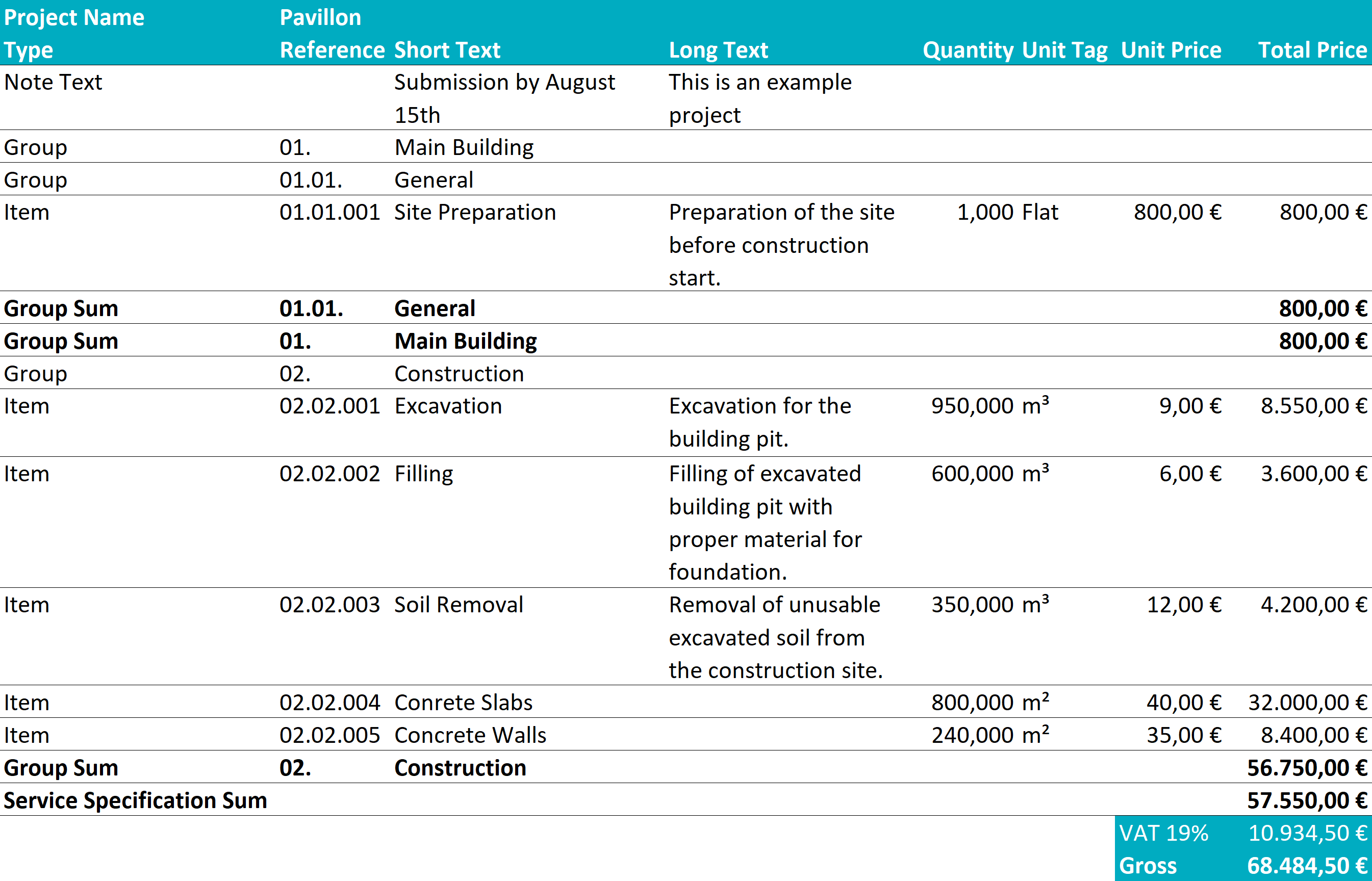 Example of a service specification.
Download this example in GAEB 90, GAEB 2000, GAEB XML and Microsoft Excel format.
The GAEB format was designed to meet the needs of modern tendering processes, called AVA in German for Ausschreibung, Vergabe und Abrechnung. It does actually exist since the 80s of the last century, but has been continually improved and adapted and is currently available in its latest version from 2019. There are the legacy GAEB 90 and GAEB 2000 formats, of which the latter is hardly used, as well as the current GAEB XML formats. The adoption is so big, that GAEB is used in virtually all building projects. Most governmental contracts in Germany demand its usage.
This widely supported format empowers all stakeholders in the AEC industry to exchange bills of quantities and related data. Typically at the beginning of a project, the responsible architectural bureau would create a bill of quantities and then distribute it in the GAEB format to interested construction companies that want to bid on the award. After each bidder has created and offer, with the software of his choice, he exports the data again as GAEB and sends it back. Modern tendering and calculation software makes it easy to manage even huge projects in this way.
Especially when combined with BIM, modern GAEB applications allow for great benefits in working efficiently. Interconnecting GAEB data with building models improves a lot of use cases in the AEC industry.
Here is a more detailed, technical description of the GAEB standard.
Do you have additional questions regarding the GAEB standard? Please contact us, we're glad to help!